TobyMac Hits Deep Tour
SparkHD will be here!
Date:
March 4, 2023 7:00 pm - 10:00 pm

Location:
5333 Prairie Stone Parkway Hoffman Estates, IL
Details:
The TobyMac Hits Deep Hour 2023 features TobyMac, Crowder, Cochren & Co., Tasha Layton, Jon Reddick, and Terrian!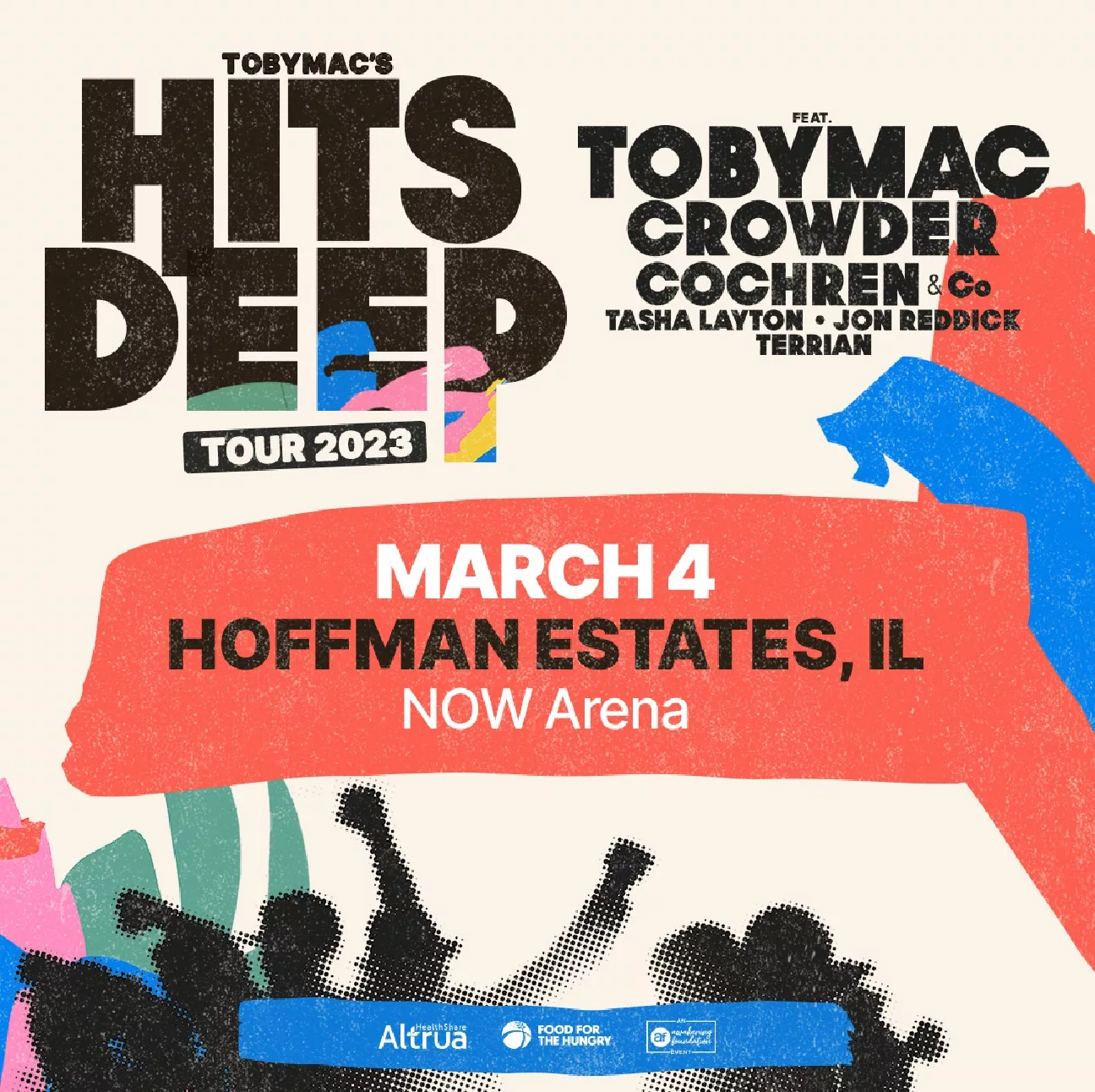 TobyMac: Toby McKeehan, better known as tobyMac, has spent most of his life as a successful Christian recording artist. The Virginia native first formed the vocal trio DC Talk in 1987, creating five major studio efforts and an EP, all of which merged gospel and rap with tinges of alt-rock. One sign of their reach: four of the six releases earned Grammy Awards in the Best Rock Gospel Album category.
In 2000, after several rounds of European and North American concerts, DC Talk called it quits, leaving tobyMac to focus on his solo career. In 2001, the performer unleashed "Momentum," followed by nine other records. Now one of the most well-known performers in the Christian rap genre, tobyMac received his own Grammy nod for Best Contemporary Christian Music Album with his fifth studio set, "Eye on It," which surfaced in August 2012.
TobyMac, who continues headlining the occasional tour, has hit the road in years past with other popular ticket-selling Christian outfits like Audio Adrenaline, Skillet and Jamie Grace.
Crowder: Texas-born David Crowder got his start as a musician with the church, undertaking music ministry duties while attending university in the '90s. Crowder formed a worship band and began performing in an effort to attract more college students to services, and before long the David Crowder Band had landed a deal with SixStep Records. Their 2002 debut album Can You Hear Us? peaked at No. 17 on the US Christian Albums chart, establishing them as a vibrant new force within the Christian rock community.
Crowder went on to release five more albums with the band, topping the Christian charts three times and achieving crossover success with albums like 2012's Give Us Rest — a No. 2 hit on the Billboard 200. After the group disbanded in 2012 Crowder ventured on as a solo act, topping the charts once again in 2014 with his solo debut Neon Steeple. A humble and inspiring performer, Crowder continues to move concertgoers on his critically acclaimed tours. Over the course of his career, Crowder has played venues such as the Petersen Events Center in Pittsburgh, the Arizona Federal Theatre in Phoenix, and Madison Square Garden in NYC.