Ladies Day 2023
SparkHD will be here!
Date:
April 22, 2023 9:00 am - 3:00 pm

Location:
One University Ave Bourbonnais, IL
Details:
We are delighted to invite you to experience the 42nd annual Ladies Day at Olivet Nazarene University on Saturday, April 22, 2023. Join Shine.FM for a morning of worship, encouragement, and laughter with Laura Story, Ruth Chou Simons, and Sherri Lynn!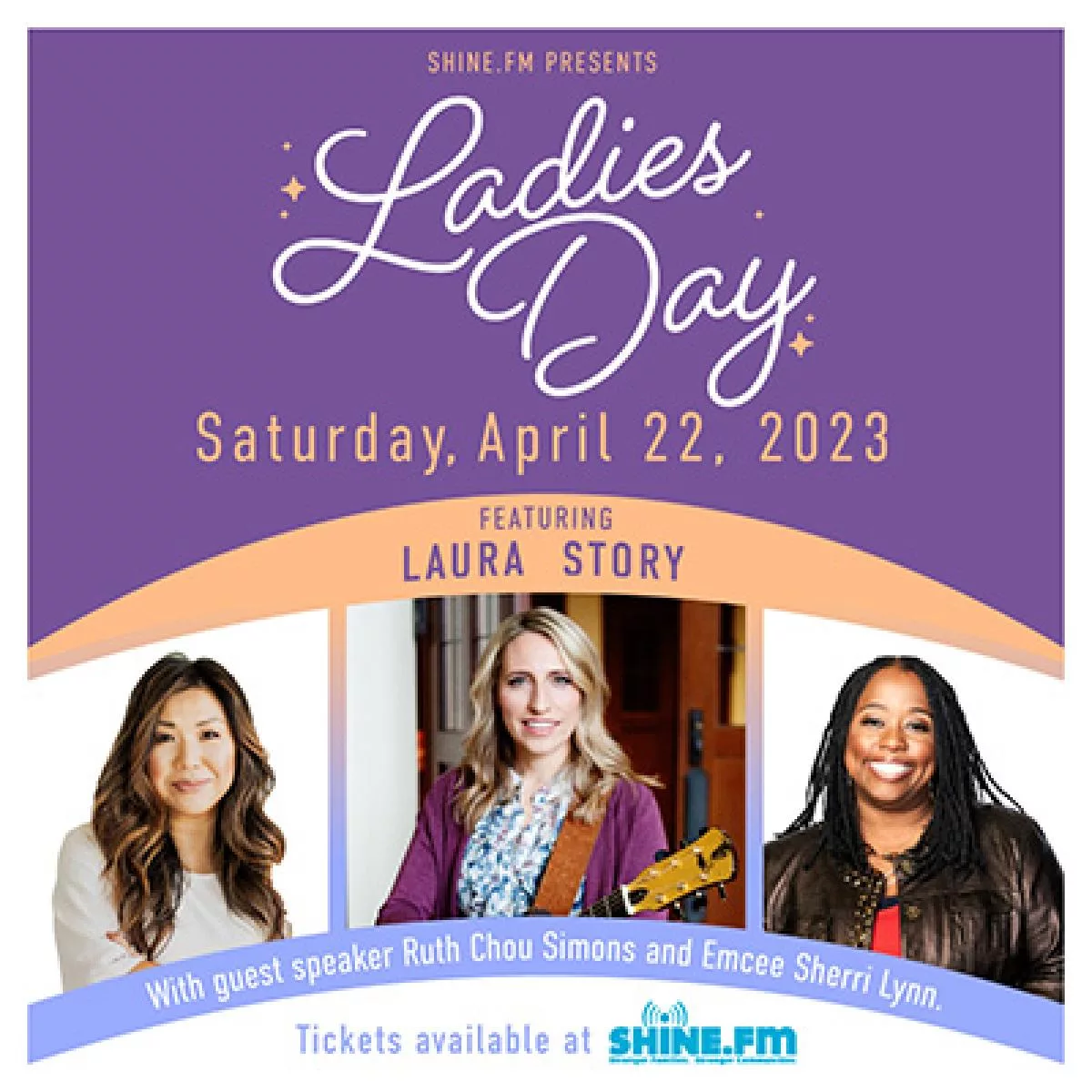 Date:  April 22, 2023
Time: 9am-3pm with a lunch break around 11:30am
Location: Centennial Chapel on the campus of Olivet Nazarene
Price: $30-$45
Speakers: Laura Story and Ruth Chou Simons
Performer: Laura Story
Host: Sherri Lynn from the Brant Hansen Show on Shine.FM mornings
About Laura Story: Shine.FM artist Laura Story is a wife, mother, songwriter, worship leader, author, artist, and Bible teacher. You may have heard her award-winning song "Blessings" playing on Shine.FM. Laura has a master's degree in theological studies and a doctorate in worship studies, and has served as a worship leader at Perimeter Church in Atlanta since 2005. Her greatest joy is being a wife to Martin and mother to Josie, Ben, Griffin, and Timothy. For more information, please visit http://laurastorymusic.com/.
About Ruth Chou Simons: Ruth Chou Simons is a Wall Street Journal bestselling and award-winning author of several books and Bible studies, including GraceLaced, Beholding and Becoming, and When Strivings Cease. She is an artist, entrepreneur, podcaster, and speaker, using each of these platforms to spiritually sow the Word of God into people's hearts. Through her online shoppe at GraceLaced.com and her social media community, Simons shares her journey of God's grace intersecting daily life with word and art. Ruth and her husband, Troy, are grateful parents to six boys—their greatest adventure.
About Sherri Lynn: Sherri Lynn is the producer of the Brant Hansen Show on Shine.FM. Sherri Lynn has been a radio professional for well over a decade. She has her degree in Communications as well as Biblical Studies.  Sherri is a writer, comedienne, and former youth pastor. She wrote and produced a comedy DVD entitled "The Very Funny Church Comedy Show: Together We Laugh", wrote and starred in the stage play musical "The Bold and the Sanctified" which starred American Idol Winner Ruben Studdard, and authored the book "I Want To Punch You In The Face But I Love Jesus." For more information, please visit https://iamsherrilynn.com/.